As a business, it's essential that you're not only present on social media, but that you also put a lot of effort and time into it. One of the most important social media platforms is Instagram, with over one billion active users.
Having a big following on Instagram can dramatically grow the sphere of your influence. The reason for this is that nowadays the legitimacy and popularity of your business's Instagram profile relies heavily on the number of followers you have.
The main purpose of this article is to explain to you the importance of having more organic Instagram followers. Keep in mind that if you're using Instagram for business, fake followers won't cut it since they will never turn into real customers. If you want to know how you can benefit from a big Instagram following, make sure you continue reading.

Increased Reach
Even though there are paid media solutions, Instagram is still very much an organic platform. You don't have to spend any money to reach and engage a good amount of your audience.
Because of this, the higher the number of your Instagram followers, the higher the chances of them seeing and engaging with your content. Something that will definitely contribute to better results is a well-thought-out hashtag strategy.
Building Relationships
You can establish yourself as an expert in your industry with the help of your Instagram followers. Your business will appear more reliable and trustworthy when you have more followers. If a person knows and trusts someone that has already interacted with your posts, this will inspire them to do the same thing.
Getting More Followers
If your profile has a large following count, it will pique the interest of many casual surfers. The curiosity will increase exponentially when you have followers that are active.
A few users will start following you just to see what your content is all about. They will check your Story feeds, visit your URLs, and explore your profile. They might even watch your Lives to find out more about your business. To put it in simple words, more followers will be drawn to your account if you have a higher follower count.
Earning Money
If you have a big organic follower count, it will be a lot easier to monetize your account and collaborate with successful influencers. When you have good engagement rates, you are likely to attract paid opportunities and sponsorships to grow your presence further.
Depending on which niche your brand belongs to, with just one single post you can earn thousands of dollars. You are ready to earn money from your Instagram presence as long as your followers interact with your posts.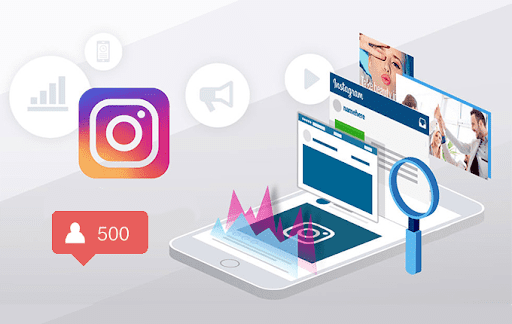 Minimal Promotional Costs
In order for a business to increase its reach and visibility on Instagram, they need to factor in some type of paid promotional post. However, if your active follower count is already huge, your visibility will be increased by the engagement left by your followers, and they will do this at no cost.
As a result, you can promote your posts through your follower engagement. This is a great way to advertise your products and services since it is free and you can use images, videos, and hashtags to reach your target audience.
Appearing Trustworthy
As we previously mentioned, having a large following on Instagram makes a business appear more reliable and trustworthy. For instance, people might doubt the authenticity of an account if the account has only a couple of dozens of followers. On the other hand, if you have thousands of users following you, people are more likely to take your account seriously.
Promotion of a Cause
If you want to inform a large number of people about a certain cause you're trying to promote, a large Instagram following is a great way to do this. You can easily reach out to your followers and educate them about the cause you're standing up for. There are plenty of causes you can promote that are related to your business, and this is an easy way to do it.
Final Thoughts
As you can see, having a huge following is very beneficial for your business. Having a large following base will ease your ways into aspects of brand building such as reaching your target audience, engaging with your niche market, and creating a presence for yourself in the community.